SELF DRIVE CARS
Chauffeur driven cars spell comfort, but self-drive is complete freedom and an unlimited dose of fun, especially if you are taming your favorite set of wheels. Finding the right self-drive car, however, often proves to be a challenge. That's when you need Autoriders.
At Autoriders, you get the option to choose your favorite car from an extensive fleet of options, ranging from basic vehicles for city commuting, to some of the most luxurious options for that special day out, business errands, or simply to cover you while your car is out of action.
1 Choose and Book your Preferred Car.
Sign up and book your choice of vehicle from the wide range of fleet available. You can decide the duration, location, and the time along with the car. It's as simple as that.
2 Upload License
Upload your driving license, pay a small amount of security deposit and your reservation will be confirmed.
3 Know the Car
We shall provide you the car details 30 minutes prior to commencement of the rental.
4 Drive and Roam
Fill out the checklist at the location selected, take the keys and then, drive and roam as freely as you want.
5 Return
Bring back the car to the same location and fill our return checklist along with our feedback form to complete your booking.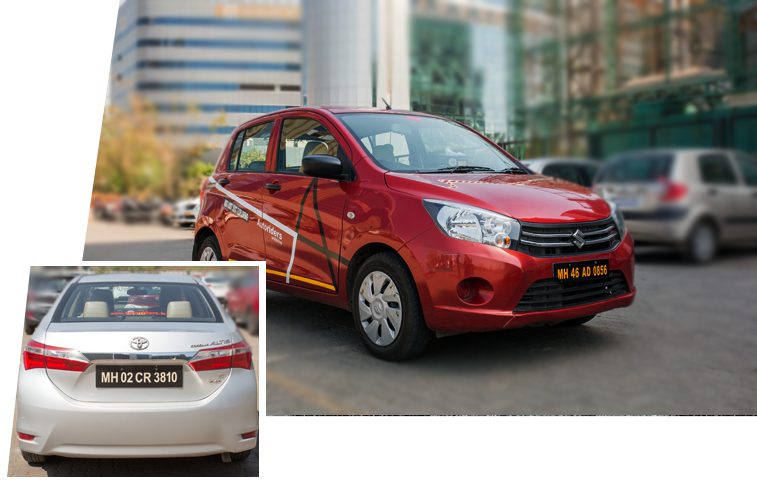 Rules &
Fines
Sl. No.
Rules
Fines
1
Cancellation Charges
25% of booking cost for Cancellations made between 12 and 6 hrs of start time.
50% of booking cost for Cancellations made between 6 hrs and start time.
No refund for bookings made during seasonal holidays.
No show
No refund.
2
Reducing/Shortening Booking time post start
No refund.
3
Late Return
Less than 4 hrs. Rs.200/- + hourly charges.
Beyond 4 hrs. Rs.1,000/- + hourly charges.
4
Overspeeding
Above 120 KMS/HR Rs.1,000/-.
Above 150 KMS/HR Rs.5,000/- and expulsion from Autoriders membership.
5
Towing
If due to vehicle failure no charge will be levied. Full cost will be recovered if user found negligent which caused the incident.
6
Vehicle Damages
Upto Rs.5,000/-.
Damages in major accident
Difference amount in the total bill and insurance coverage.
7
Extensive cleaning (if required).
Rs.200/-.
8
Eligibility Criteria: Must be minimum of 20 years of age.
9
Refund period will be 8-10 working days as per bank's regulations.
10
Charges are based on 1 Hour/10 kms basis. Extra Kilometers and Extra Hours used than the actual time booked for, and any damages will be deducted from the security deposit and balance will be refunded.
Cities
We Cover
Whether you want a sturdy off-roader in Mumbai, or a classy sedan in Delhi, you can count on Autoriders to provide you with best-in-class models, in all major cities.

Terms
and Conditions
Ride Responsibly
Dear Self-Drive Enthusiast, Thank you for booking a self-drive car from Autoriders! By reading and understanding the points below, you acknowledge that you understand and agree to the detailed terms and conditions as stipulated on www.Autoriders.in. The information below is intended to provide a summary of the rental conditions contained on our website and is not intended to serve as a full replacement. Any clause below otherwise not contained in the principal agreement between you and Autoriders shall stand incorporated therein by reference.
1. Forbidden Uses:
Autoriders vehicles may not be used for the following:
a) Transporting goods / people in violation of local laws or excise & customs rules.
b) For sports, adventure, races rallies and other competitive events.
c) For over speeding violations over 125 km/hr. there will be a fine of Rs.1000.
d) Above 150 Kms/Hr Rs.5,000/- and expulsion from Autoriders membership.
2. State Border Crossing:
While all Autoriders vehicles are registered with an All India Permit (meaning they can be driven anywhere within India), there are toll & taxes payable upon crossing state borders especially at checkposts between each State. Individual renters are liable for payment of such charges.
3. Maximum Damage Cap:
Your liability in the event of theft or accident to the vehicle is restricted to a maximum amount equal to Rs.5,000/-. Autoriders insurance handles the remainder. This is provided you adhere to all of Autoriders standard rules and regulations as described here. Requesting customers to mark damages, if any, in the car at the time of taking it as well as returning it to Autoriders.
Going Outstation ?
Autoriders vehicles are equipped with an All India Permit so that the entire Sub-Continent is at your fingertips! You are free to travel outside the state you picked up the car. In fact, we highly encourage you to get out there and explore this beautiful country! Autoriders has a commercial vehicle designation (that's why we have black with yellow plates). It is not required that you have a special driver's license or badge in order to operate our vehicles anywhere in India! When traveling out of state in a commercially registered self-drive vehicle, it is important to always remember to stop at the first RTO checkpost when you enter into a new State. The signs are always well marked and you will find that all cabs and self-drive rental vehicles are stopping there too.

At the RTO check post :
1. Securely park your Autoriders vehicle
2.Ensure that you are carrying your original drivers license. Failure to bring original drivers license may result in a penalty of up to Rs 500 at state RTO check-posts (As per Section 181 of Motor Vehicles Act).
3. Fetch all of the following documents from the vehicle show to RTO officer:
a. Registration card (RC)
b. Insurance documents
c. All india permit
4. Make the cash payment for the visitor permit (see below for more detail)

Please Note :
If the RTO officer is confused in any way or is causing any problems for you, call our 24x7 Call Center or Fleet Executive team immediately and they will diffuse the situation with the OffIcer and no set of circumstances should you have to pay any additional cash fine or penalty. It is not required that you have a special driver's license or badge in order to operate our vehicles!